Well Remediation Services
Wells tend to lose their integrity over the years due to exposure to harsh weather conditions.  Conducting well remediation services helps to restore well's integrity, avert hazards, and boost oil production.
We deploy a range of technologies depending on the kind of remediation that is needed. We are experts in brownfield restoration, and under our belt is the restoration of AKASO 04 amongst other wells
Repair of Collapsed wellhead jacket/Platforms
In well remediation, jackets and platforms assist technicians in accessing wells set up in swamp locations as it serves as a base on which they conduct well assessment and repair.

Jackets are usually affected by salt water and weather conditions which are responsible for loss of durability. Corrosion and well subsidence can cause the platforms or jackets to give way.  Using best industry practices, we prefabricate a replacement jacket or platform at our base, confirm it okay before it is deployed to the site for commissioning after the compromised jacket or platform is decommissioned.
Repair of Collapsed Casing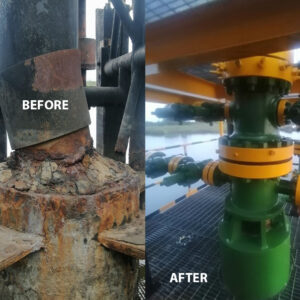 Casings, over time, lose their durability and may collapse by bending or sinking due to the enormous weight from the Xmas Tree they bear.We deploy our finest technologies in repairing collapsed casings. Hydroblasting is conducted to ascertain the level of the corrosion before we introduce the composite wrap which is applied on the casings and allowed to cure for 24 hours to enable the casings to become firmer and regain their durability.